3D Printing: Achieving Smooth Parts with the Right Finish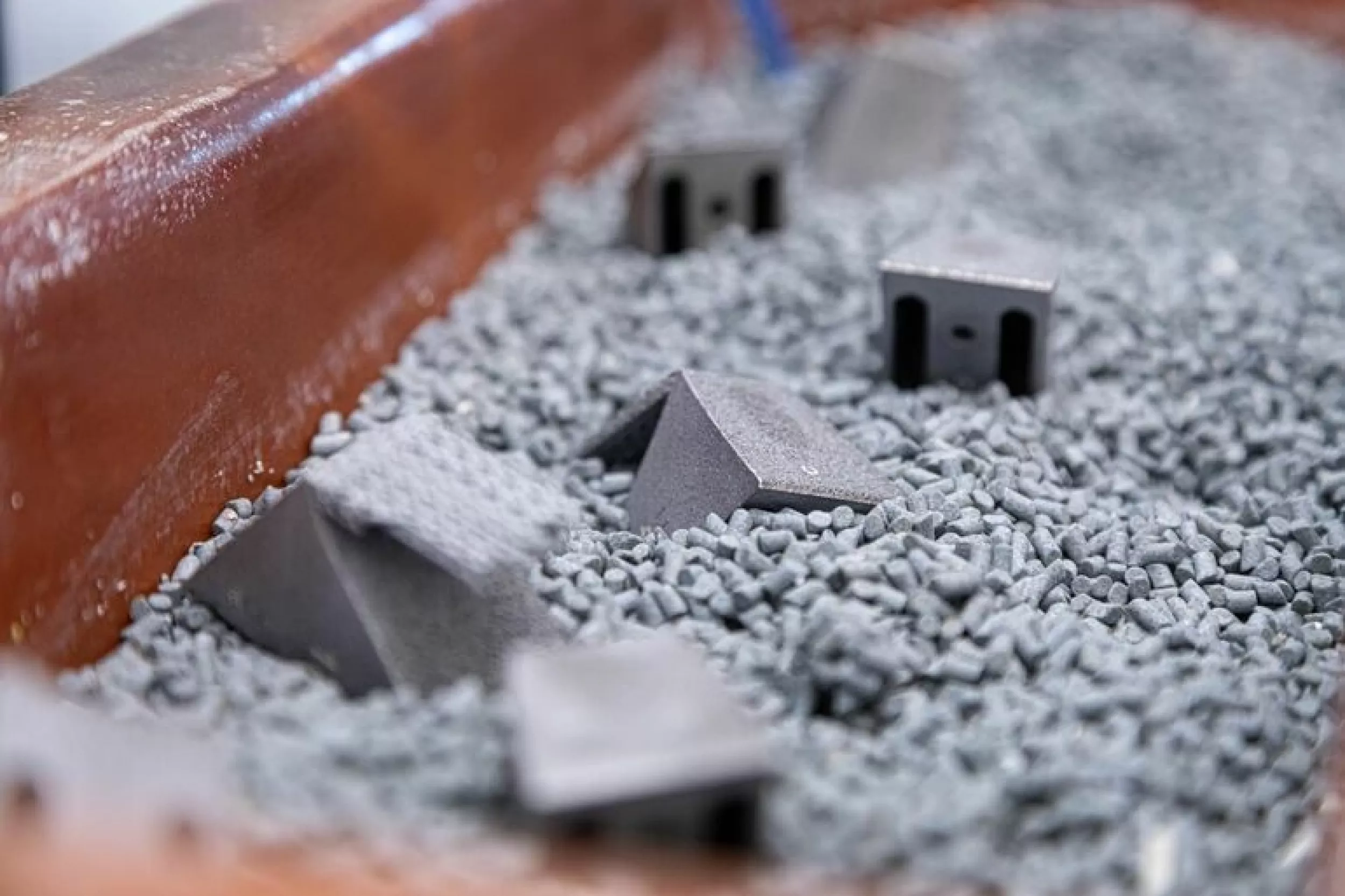 Project Clean3D: Automated System for Depowdering and Post-processing Metal 3D Printed Parts
In order to develop a modular machine concept that enables the automated depowdering and post-processing of additively manufactured metal parts, IPS – Innovative Produktionssysteme and Fraunhofer IPA have joined forces in the research project "Clean3D."
Additive manufacturing is increasingly establishing itself as a production method in the industry, not only for plastic but also for metal parts, even outside of small series production. The reasons for this are primarily the design freedom that conventional machining or forming processes do not allow, easy scalability, intricate structures, and on-demand manufacturing. This opens up diverse possibilities and freedoms in component and production process design.
Form complexity of parts hinders automation
However, 3D printing still faces some technical challenges, particularly in the post-processing stages such as depowdering and surface finishing. Due to the complexity of part shapes and the high variability in small series production, these processes are often not easily automated. The complete process chain of additive manufacturing, therefore, still has potential for improvement, especially to make metal 3D printing more competitive.
The goal of the "Clean3D" project is to create an automated system that fully depowders parts and additionally enables high-quality and consistent surface finish for different components. Within the project, IPS is responsible for developing the new system, while Fraunhofer Institute for Manufacturing Engineering and Automation IPA handles the systematic testing of potential process influencing factors and quality assurance in the process.
Factors for achieving high surface quality
Through discussions with several companies in the 3D printing industry, the project teams are determining the requirements for both processes to ensure an application-oriented approach. Test parts are then used to identify the process influencing factors:
Grinding abrasive shape
Grinding abrasive material
Compound
Motion strategy
These factors will be analyzed to develop solutions for the investigated materials. Based on this, initial concepts for the system will be developed. In the meantime, a process monitoring concept is being developed, which includes determining the wear of the grinding abrasives. Once the system is completed, it will be validated using test parts.
Project status
In October 2022, the project teams have already held several discussions regarding the industry's requirements for such a system. They have gathered core requirements and derived the initial steps for further progress. Currently, the first tests on real parts are being conducted to identify the main factors influencing surface quality. These results will be considered in the further course of the project.
The research project "Clean3D" is funded within the framework of the "Invest BW" program with resources from the Ministry of Economic Affairs, Labor, and Tourism of Baden-Württemberg (WM BM) and supervised by the project sponsor VDI/VDE-IT. The company 3D-Laserdruck GmbH & Co.KG is supporting the project with 3D-printed components. (eve)